Rohan Dickson's Desert Rose trip
Reyka creator Rohan Dickson talks about finding home ground for his new show, Desert Rose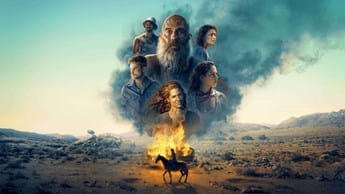 M-Net's (DStv Channel 101) new blockbuster local drama series Desert Rose Season 1 is a tale of innocence and experience, set in a forgotten Northern Cape town. The story centres on the Greyling siblings and what they have to do to survive on the fringes of society, in the middle of nowhere, after their musician father Freddie (Neil Sandilands) walks out on them and vanishes into the desert.
"On one level, Desert Rose is the name of the town. And on another level, it refers to the Greyling children, and maybe more specifically, Lucy (played by Daniah De Viliers, Lucy is the daughter of Tinarie van Wyk Loots's character, Rosie), like in the phrase "an English rose". Desert Rose also refers to Lucy's innocence, and how that is going to be compromised. Unlike my other projects, it was the only title, ever. It just felt right. And after being there (the Northern Cape), you can't not put the word desert in the title," says the man behind the show, Reyka creator Rohan Dickson.
But first, he had to take his own walk into the desert…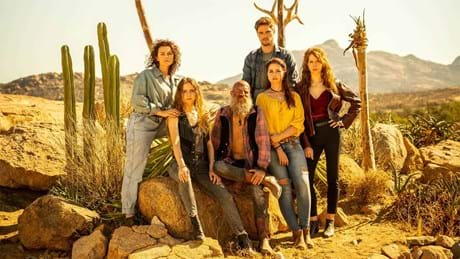 Watch M-Net now Set a reminder
Watch Desert Rose Season 1 from Thursday, 2 June at 20:30 on M-Net, DStv Channel 101
A people and a place
"The story is loosely based on episodes and little pieces of narrative that I remember hearing as a boy when I was growing up, about my family. By the time you become an adult, you're not sure how much is true and how much is exaggerated, but I had a lot of the tone, I knew the characters, and I knew what would kickstart the story, which would be the death of one of the siblings, because all of that happened in real life," says Rohan. "Lucy was based, in a sense, on how I felt as this young person hearing these stories. But I knew I didn't want to place it where it actually took place, which is where I'm from (in KZN), I wanted to detach because I knew I was fictionalising a huge amount of it. And I love stories or films that are set in the American desert or the Australian Outback. I've always loved that. Finding the desert was what the first adventure was for," he adds.
Just before Lockdown struck in late March 2020, Rohan and his script editor Gerrit Olivier (Professor of Creative Writing and a colleague of Rohan's at Wits University) set off on a road trip to explore the Northern Cape, to ground the story in a real place.
"I went with him because I knew he would love to go on an adventure. He would love the location. He's much older than me and he knows a lot of the history, plus he's Afrikaans, and every single person we encountered was Afrikaans, first language. Many weren't able to engage in English. So he was the translator. After that, he took on the role of script editor and read every draft of all the scripts and gave me very specific notes on how people in that situation would behave, especially coming from Afrikaans roots. He was a cultural consultant to some degree. Having worked with him on that was very valuable," Rohan explains.
So off they went into the vast open landscape of the Northern Cape. "I wasn't sure where I was going, I didn't know the Klein Karoo, and I didn't know about Kamieskroon, where we ended up shooting the series, when I left to go on the trip. I went with Gerrit for over a week. We drove to Springbok and explored all around there. There's an area about 200km wide where we explored everywhere. We met people, and people took us into their homes, and we spoke to a complete diversity of Northern Cape people. We found the strangest and most amazing people literally in a small shack in the middle of the desert, in the middle of nowhere. We would just approach the shack and ask to speak to them.
"In Kamieskroon there was a family there that spoke to us a lot and gave us dinner and looked after us a bit – just spontaneously. They were amazing, and very welcoming. I don't think at the time Kamieskroon was the obvious choice, because it's very small, it's more like a settlement than a town, and we didn't know whether we would have all the facilities to be able to shoot a production there. But as it turned out, that is where we went. And that's where we shot 80% of the series with the last 20% being shot in Port Nolloth, which is on the coast.
"It's just so beautiful. We spent 8 days just surrounded by the Namaqualand, and at the time, it was barren. I'm sure the flowers add a very poetic touch, but what we saw was haunting and incredible. It was very moving and a really seminal experience in the research. It (my story) became more Afrikaans. The flavour of the Northern Cape became more present. And as I started writing it, I left behind those stories from my family and I started to make up things. It became more quirky. It's offbeat now. Even if there had been no TV series, it still would have been something I would never forget."
The desert setting was essential for several of the themes that Rohan wanted to explore in Desert Rose. "It is a familial story. It is a familiar story. But the idea of characters that have been exiled or feel that they have been exiled resonates deeply for me. The Greylings live but they are the forgotten people. It's a series about being an exile, and families, and fending for yourself. It's a story about a family that are left to live on the fringes in a country that has left them behind. And that's not to feel sorry for them. They have either willingly chosen to be exiled, or they have been exiled by history, politics or economics. The people that live out there, many of whom I spoke to, are exiled in a way. It's now (about) how do you survive, if you feel that you're in a country that has moved on… for good reason… and you're no longer part of the party anymore. Is it a question of survival? Is there love that can be found in those little crevices? Is there redemption? Is there humour? Is there humanity that can be found in those little cracks or do you just kind of waste away in the desert?"
These are just some of the questions that Rohan has layered into Desert Rose Season 1, as the Greylings choose their paths.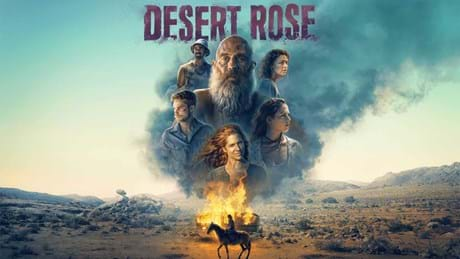 Watch Desert Rose Season 1 from Thursday, 2 June at 20:30 on M-Net, DStv Channel 101
M-Net (DStv Channel 101) is available to all DStv Premium customers. To upgrade your existing package, click here. Or if you'd like to Get DStv, find a service that suits your needs here.
Back to News