On the menu: Come Dine With Me South Africa S7
Local
Come Dine With Me South Africa S7 producer Kee-Leen Irvine lifts the lid on the new season…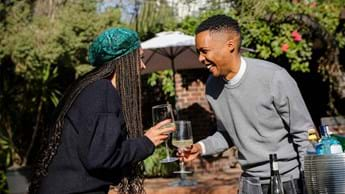 Are you ready for a sneaky little taste off the spoon? DStv got into the Come Dine With Me South Africa (CDWMSA) kitchen to speak with the series' executive producer Kee-Leen Irvine about what might be the most competitive season yet.
South Africans have had lockdown and social distancing time to hone their skills, sharpen their knives and their tongues, and we're in the mood to party hard.
Read on as Kee-Leen serves it up...
Watch Come Dine With Me South Africa now Watch BBC Lifestyle now
Come Dine With Me SA: Tasting menu
How was this season filmed?
The past two seasons of CDWMSA have been filmed under stringent COVID protocols and even though we shifted to Level One (of COVID lockdown) during the season of filming, those protocols were maintained. Everybody's tested regularly, and apart from our little bit of extra social distancing, there were no big challenges.
We finished recording Sunday, 31 October after 60 days of shooting. (We film) one dinner per night, over four consecutive nights. So, on Wednesday, we shoot our first lot of profiles and interviews. And then dinner party one, two, three and four are generally filmed on a Thursday, Friday, Saturday, and Sunday.
What's the longest distance you drove contestants between houses?
About 40km, from the centre of Cape Town to Melkbosstrand – well worth the visit for the beautiful scenery. Thankfully, we had no issues with loadshedding and traffic lights.
What stood out to you from this year's auditions?
Certainly the interesting range of contestants and their creative menus. Maybe it had something to do with the fact that many people had spent a lot of time at home in lockdown cooking to their heart's content, trying out different things and were suddenly thinking, "Hey, I'm actually not too bad at this, I could be the host with the most!" I'm also pleased with the range of great male contestants from all demographics, I've just been so charmed by the effort they make and how keen they are to be on the show.
How did you cast this season?
It's quite an extensive casting process. Applications come in, you run a paper selection and cull from there, and then you conduct telephonics, and draft a shortlist from there, and then you have face-to-face interviews, and shortlist further from there. Then you run background checks and hopefully you've got no serial killers in the mix (laughs). The BBC are involved in the casting process and sign off on the cast selection.
How do you play matchmaker when putting the groups together?
One of the defining criteria is the location you live in. You're not going to put somebody from the East Rand (of Johannesburg) with someone from the West Rand because it just creates logistical complications to have to travel so far, and you still have to shoot within a set amount of time. Then you've already kind of got them grouped together so that you can see who would fit well.
We look for fun, vibey, confident, chatty people. We look for interesting people who are going to push the boat out in terms of a dinner. Sometimes people have to drop out for work commitments, and then your initial vision doesn't actually materialize, but something equally charming comes out.
We had someone who came onto the show who was a third replacement. This guy was just delightful, obsessed with pugs, everything about him is pug-related (Judd is episode 1).
What are South Africa's hot new dinner party catch phrases?
We had the series that was defined by the phrases "What fudge," and "Shut the front door". I don't think we had anything like that this season but we have one contestant who constantly said "It is what it is" as an ongoing refrain, which was quite amusing.
Can you give us a little taste of what's on the menu?
We have a strong focus on local cuisine, sharing and celebrating different heritages including the rather adventurous offal, which is not to everyone's liking – brains, heart, intestines and stuff like that – through to fine dining with oysters and caviar.
What's certainly evident is how much South Africans love their meat, and peppermint crisp tart certainly seems to be a firm South African favourite.
What are some hot hosting moves we can expect this season?
We shot in September and October, but we have one or two groups who decided to do Christmas themes. People also made quite a lot of effort to have things around the dress code for the evening. Then there's this one dinner party where it was such an ambitious menu but everything, I mean everything, that could possibly go wrong, went wrong. The food from beginning to end is just jaw dropping for all the wrong reasons, but it makes for a very entertaining show. You see the unflinching commitment to hosting, even though it's a disaster. And then (you have) people who're going, "I nailed it. I nailed it." And you go, "No, my darling, you really didn't." Their ignorance is bliss.
Sounds like you'd be a tough guest, Kee-leen!
After I've seen the length and the breadth of what we have to offer, yeah, I think my standards would be quite high because I know what we can do.
Watch Come Dine With Me South Africa S7 from Wednesday, 10 November on BBC Lifestyle (DStv channel 174) at 20:00 and on Catch Up. 
NB! The first 6 episodes will air 10 November-15 December, followed by a short break, with the final 6 episodes airing from Wednesday, 26 January at 20:00. 
BBC Lifestyle (DStv channel 161) is available exclusively on DStv Premium, Compact Plus and Compact. To upgrade your existing package, click here. Or if you'd like to Get DStv, find a service that suits your needs here.
Back to News
On the menu: Come Dine With Me South Africa S7
Come Dine With Me South Africa S7 producer Kee-Leen Irvine lifts the lid on the new season…
card link
Live Your Fullest Local Life with BBC on DStv
Local flavour is on the menu when the return of Come Dine With Me South Africa starts the BBC channels' Live Your Fullest Local Life Wednesdays
card link
Come Dine With Me SA's hottest virtual dinner party tips
Get ready to play along with Come Dine With Me SA
card link