How to beat Loadshedding with DStv
Download up to 25 content titles with the DStv App, and turn loadshedding chills into winter thrills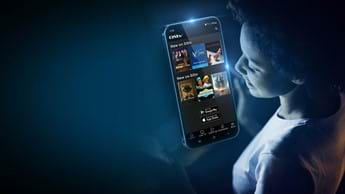 This June you don't need to shiver in the dark when loadshedding strikes, thanks to the DStv App. Keep the TV glowing and the family snuggled close, even in those moments when you don't have a connection – whether that's because of a certain electricity non-provider, or because you're off on adventures playing Survivor.
The DStv App (available via the Apple, Android and Huawei app stores) allows you to download up to 25 DStv content items on your device and keep them stored on your smart device for those days when the lights go out.
Simply download your favourite titles when you're connected to Wi-Fi hotspots, then watch them offline later. You'll be sorted when #ShedHappens.
Note: Downloading to a laptop is not available.
How to download DStv shows to your phone or tablet
If you haven't already, go online and register for DStv streaming.
Next, download the DStv app to your smartphone or tablet.
Open the app on your device, log in and go to Menu > Catch Up.
Select the movies or series you'd like to download and tap the cloud-shaped Download icon.
When you download, choose between 4 download quality options: Highest, High, Medium and Low. You will be shown how much data and storage space you need, based on the option you choose (If the icon has a cross through it, it means that show can't be downloaded).
You can download up to 25 items to your device. This includes movies, sports highlights, documentaries, kids shows and episodes of your favourite series.
To see what you've downloaded, go back to Menu > Downloads. You'll also be able to see which downloads are still in progress.
Check the expiry date of the item you are downloading. Some movies or episodes expire sooner, while others remain on the DStv playlist for quite some time.
Once you press "play", you need to watch that movie or episode within 48 hours.
Tips for downloading to your DStv app
Make space on your phone or tablet by deleting old or duplicate photos, clearing old WhatsApp chats and uninstalling apps you haven't used in a long time.
Choose "Low" when you download movies or episodes from DStv to your phone or tablet. That way it takes up less space on your device.
Remember, as well as grabbing the latest episodes of your favourite series, you can also download full seasons of DStv's hottest shows as Box Sets.
Coming this June
This is just a hint at what's available to you to download on the DStv App this June. There's so much more to explore.
Desert Rose Season 1
Tense local drama about absent fathers, family and coming of age from Reyka creator Rohan Dickson. The Greyling siblings sell their souls to make ends meet after their dad Freddie (Neil Sandilands) abandons them in a dusty Northern Cape Town, leaving them in debt to the ruthless Eugene Van As (Ben Voss).
Catch Up from Thursday, 2 June at 20:30 on M-Net (DStv Channel 101)
Watch M-Net now Watch Desert Rose now
Outopsie Season 1
South African forensic pathologist Dr. Hestelle van Staden explores true crime cases in which forensic pathology played an important role, including the 2016 murder of Baby Daniel, and the 2015 Rhodes park gang rapes and murders.
Watch Outopsie Season 1 from Thursday, 2 June at 20:00 on VIA (DStv Channel 147)
The Saturday Showdown Season 1
Would you like to play a game? Super Sport presenter Thato Moeng and comedian Skhumba Hlophe are challenging celebs and their teams to play the fool with R3,5 million on the line.
Catch Up from Saturday, 4 June at 18:30 on Mzansi Magic now (DStv Channel 161)
Watch The Saturday Showdown now Watch Mzansi Magic now
Billy The Kid Season 1
In the US, Billy the Kid (Tom Blyth) is an Old West legend, despite being dead at the age of 21. This rootin', tootin', shootin' series shows how he went from being the child of dirt-poor Irish immigrants, to becoming a cowboy, then a gunslinger, and then a notorious outlaw riding with Jesse Evans (Daniel Webber) and the Seven Rivers Warriors Gang.
Catch Up from Thursday, 23 June at 21:30 on M-Net (DStv Channel 101)
9-1-1 Season 5
Ryan Murphy's sensational police procedural series leaves no time for napping this season. We start with a citywide blackout, hospital helicopter crash and escaped zoo animals on the loose. Michael's proposal is interrupted by a hospital explosion, there's a Speed movie parody episode, a whole lot of cast juggling, a surprise wedding, and a hair implant maggot incident that'll give you nightmares.
Watch 9-1-1 Season 5 from Wednesday, 8 June at 19:30 on M-Net (DStv Channel 101)
Watch M-Net now Watch 9-1-1 now
9-1-1 Lone Star Season 3
It's Texas-sized trouble, y'all. The season opens with a 4-episode storyline set during 2021's killer ice storm, which sees Grace stuck on the road while giving birth and TK in a coma. Also coming up, tapeworms, alien hunting, Owen's fear of clowns, a macaw and a lizard, and a man falling into a trash compactor.
9-1-1 Lone Star Season 3 from Wednesday, 15 June at 20:30 on M-Net (DStv Channel 101)
Watch M-Net now Watch 9-1-1 Lone Star now
Law & Order Season 21
Law & Order returns after a 10-year break with OG series characters Jack McCoy (Sam Waterston) and Kevin Bernard (Anthony Anderson), and new team members played by Hugh Dancy, Camryn Manheim and Jeffrey Donovan. Real life scandals behind this season's stories include the trial of Theranos head Elizabeth Holmes, and the Britney Spears' conservatorship.
Catch Up from Thursday, 23 June at 19:30 on M-Net (DStv Channel 101)
Watch M-Net now Watch Law & Order now
The DStvMVCAs 2022
Put on your glad rags and watch live or replay all the action from DStv's 2022 Mzansi Viewers' Choice Awards and red carpet. The nominees board is stacked with hotly contested categories because the question we're asking is "Who's your favourite?", from comedians to sports stars, to songs.
Catch Up from Saturday, 25 June at 20:30 on Mzansi Magic (DStv Channel 161)
Chicago Fire Season 10
Episode 5 is this action-drama series' 200th episode overall, and a fitting goodbye to Casey. Also coming up, Boden is promoted to Deputy District Chief, and one of the Firehouse 51 staff is taken hostage. PS: expect loads of romantic moments, including the episode 12 Officers' Ball, as the season builds to Severide and Stella's finale wedding.
Watch Chicago Fire Season 10 from Tuesday, 28 June at 19:30 on M-Net (DStv Channel 101)
Watch M-Net now Watch Chicago Fire now
Listing Cape Town Season 1
Five superstar Cape Town estate agents are showing you what your millions (and hundred-millions) can buy, from old mansions in the Southern suburbs, to cutting edge Camps Bay design and farms in Franschhoek. It's something to fantasise about while you're watching Saturday Showdown!
Catch Up from Wednesday, 1 June at 20:00 on BBC Lifestyle (DStv Channel 174)
Already waiting for you!
Back to News