Get ready for Big Sports Weekend
Stay tuned for this weekend's biggest sporting events – and with the DStv App, you can watch on the go.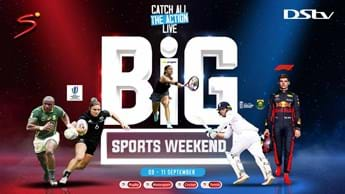 From tennis, to motorsport and cricket, stay tuned for another exciting Big Sporting Weekend, live on the DStv App, from 10-11 September 2022.
There's a line-up of sports to watch, so clear those diaries, get those braai stands ready and make sure that the beverages are on ice. The 2022 Rugby World Cup Sevens starts on Friday 9 September while the US Open draws to a close, and the Proteas go against England at Lords.
Despite your DStv package, you can still watch DStv on your device using the DStv App. The DStv App enables you to enjoy the content on your package when you're on the go.
For more information, visit our TV guide to stay updated on all the sports events this weekend.
Here's a look at the upcoming fixtures:
Saturday 10 September 2022
Cricket
England Cricket – Test Series, England versus South Africa 3rd Test Day 3 at 11:50 on SuperSport Cricket (DStv Channel 212)
Rugby
Rugby World Cup Sevens on SuperSport Rugby (DStv Channel 211)
Tennis
US Open, Women's Final at 22:00 on SuperSport Tennis (DStv Channel 214)
Sunday 11 September 2022
Motorsport
F1: Pirelli Gran Premio D'Italia GP at 14:55 on SuperSport Motorsport (DStv Channel 215)
Watch SuperSport Motorsport now
Tennis
US Open, Men's Final at 22:00 on SuperSport Tennis (DStv Channel 214)
*Please note: fixtures are subject to change.
How to watch:
Stream Big Sporting Weekend live via the DStv App or get the DStv App (Apple or Android).
To upgrade your existing package, click here. Or if you'd like to Get DStv, find a service that suits your needs here.
Back to News