Chasing and facing demons in Reyka
Actors Kim Engelbrecht and Iain Glen tell us everything you need to know about the brand-new M-Net (DStv channel 101) crime-thriller Reyka, coming soon to DStv
The countdown has begun and M-Net's (DStv channel 101) thrilling new crime-drama series Reyka is less than a month away. We're not just waving the hometown flag here. The excitement surrounding Reyka is mounting worldwide, thanks to a global distribution deal with Fremantle productions. 
M-Net (DStv channel 101) is available exclusively on DStv Premium. To get DStv or to upgrade your package, click here.  
DStv loves to spoil viewers with exclusive sneak peeks, so read on for even more storyline hints from this series' star-studded cast, such as South-African actress Kim Engelbrecht (Raised by Wolves) and legendary British actor Iain Glen (Game of Thrones). Set your alarm, grab your remote and make sure you don't miss a moment of the suspense, action and psychological drama that Reyka will bring! 
Watch Raised By Wolves on Showmax  Watch Game of Thrones on Showmax  Add Showmax to your DStv account 
Meet Reyka's "keeper"
"I can tell you things, Reyka… things you have forgotten… things you want to hear,' prisoner Angus Speelman (Iain Glen) tells criminal profiler Reyka Gama (Kim Engelbrecht) as tears well up in her eyes. So far, so creepy. But that speech becomes even more intense when you uncover Speelman's strange connection to Reyka. He kidnapped her when she was a young girl of 12, and he kept her captive for 4 years – until something happened and she escaped.  
The adult Reyka is a criminal profiler who's hunting for an evil serial killer with a sweet taste for death who's stalking and killing women through the sugarcane fields of KwaZulu Natal.  
Iain explains there are 2 time zones in this story. "In the first time zone, we get to know Speelman as a banana farmer during the period of Mandela's release from prison in the '90s. He abducts Reyka as a child and creates this weird 'perfect' little family unit in which Reyka is given every opportunity to develop herself. Yet she has been taken against her will and is not allowed to leave," says Iain. 
"The second time zone is in the present day of the story, and we find Speelman, who has been in prison for over 20 years as a result of the abduction and forced imprisonment of a minor, trying to reconnect with Reyka. They both have their own agendas. Reyka is trying to use Speelman to help her to understand the pathology of the serial killer she is trying to catch, while Speelman wants her to help facilitate his release from prison."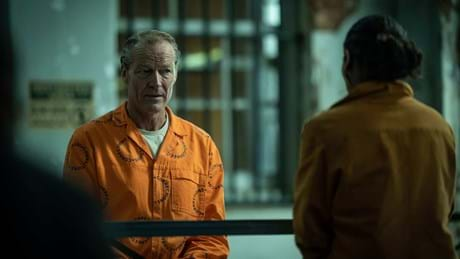 Reyka and Speelman use each other for their own agendas. 
Facing your demons
Besides all the suspense, time zone-swapping and action, Kim explains that Reyka goes on a dangerous journey in which she must face her demons and the immense trauma she suffered as a child. "She is so damaged, which is the saddest thing about Reyka," says Kim. "She has been diagnosed with complex PTSD, she has a mother she can't talk to, and she's unable to have a relationship with her own daughter."  
Reyka's life is in shambles, but when we meet her, she's also hard at work trying to rehabilitate herself. "She has dedicated her life to her work – that's her life force, her driving force and the 1 thing she knows she can excel at," says Kim.  
But will Reyka be able to deal with her problems while also putting a stop to the sugar cane serial killer and even break those ever-present ties with Speelman?  
Meet the cast
In addition to Kim and Iain, there is a strong cast whose characters all have their own stories to tell:
Gabrielle de Gama is young Reyka
"When Reyka gets kidnapped, that really changes who she is," explains Gabrielle. "Her kidnapping definitely influences her when she is older, she experiences flashbacks of her own kidnapping and strangely enough that helps her to solve the crimes she now has to investigate." 
Rashaan Stackling is Thuli Gama 
Thuli and her mom, Reyka, have a broken relationship. "And because of that, it affects Thuli's personality," says Rashaan. "It has a lot of emotional baggage that comes with it, and I think that Thuli thinks Reyka doesn't really know how to be a mother to her daughter, she is physically there but not mentally."
Anna-Mart van der Merwe is Elsa Meyer 
Veteran actress Anna-Mart (Julie in the drama series Tydelik Terminaal, now on Showmax) plays Elsa, Reyka's mother. "In her heyday, she became a reporter for newspapers during the political era change in South Africa, and she isn't your lipstick in the handbag sort of character," says Anna-Mart.  
Watch Tydelik Terminaal  Add Showmax to your DStv account 
Leeanda Reddy is Alia Sewsunker 
"Alia is a tough chick," says Leeanda (Nirvana in the M-Net telenovela Legacy). "As a forensic detective, she is an important part of Reyka and her team of investigators because of her expertise in police and crime work. She doesn't go on hunches; she works purely on the facts and evidence that is set before her." 
Thando Thabethe is Nandi Cele 
"Nandi is a young, energetic and driven detective," says Thando (Linda in the Mzansi Magic drama series Housekeepers). "She is really trying to climb the ladder and prove herself. Nandi does everything by the book, where Reyka has an outlandish way of doing things. Nandi thinks that's a flaw, but she still looks up to Reyka." 
Watch Housekeepers  Add Showmax to your DStv account 
Gerald Steyn is Nick Tanner 
"He's a cowboy and likes kicking doors open," says Gerald (Doctor Uys in kykNET soapie Binnelanders) about Nick, who is also a detective. "He's like a bull in a china shop, but in the end, he is serious about his job and catching the bad guys." 
Mavuso Simelane is Samuel Zwane 
In contrast to Tanner, Zwane is a strait-laced investigator. "Reyka is an authentic story and I want to do it justice it in my acting," says Mavuso (Mandinka in the miniseries Roots). "I remember reading the script last year during lockdown and it intrigued me so much that I could not put it down. That's how good it is."  
Hamilton Dhlamini is Hector Zwane 
"He is the top cop in Reyka's investigation of the serial killer," says Hamilton (Andile in the telenovela Isibaya). "He was well trained during apartheid and by the police of that era. He is doing a good job in the midst of corruption and isn't tainted by those who wants him to show a blind eye." 
Watch Isibaya on Showmax  Add Showmax to your DStv account 
Also check out Desmond Dube as Pastor Zik, Kenneth Nkosi as Chief Msomi, and Nokuthula Mavuso as Portia, 1 of Speelman's other victims who works for him on the farm.  
A must-watch 
"I'm hoping that Reyka as a TV series is as enjoyable to watch as it was to film," says Iain. "All the elements to make good drama are there. A fantastic production team led by Serena Cullen from Serena Cullen Productions and Harriet Gavsho from Quizzical Pictures. Guided by truly excellent directors, Zee Ntuli and Catherine Cooke, it's a great ensemble of fine South African talent trying to bring Rohan Dixon's (writer of Reyka) outstanding and compelling script to life. I was proud to be part of a drama that was engaged with a story that felt like it just had to be told," adds Iain.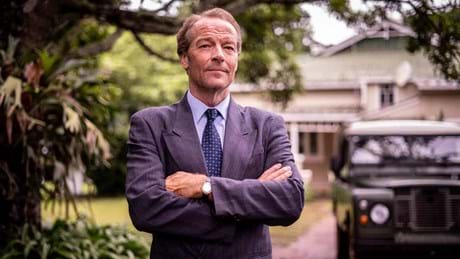 Speelman looks like any other father, but there is more to him than meets the eye. 
---
Keep up with all the latest on Reyka on M-Net's special YouTube Reyka channel. 
Watch Reyka S1 from Sunday 25 July on M-Net (DStv channel 101) at 20:00 
NB! M-Net (DStv channel 101) is available exclusively on DStv Premium. To get DStv or to upgrade your package, click here.  
Sign up with the DStv app, a free service for all DStv subscribers. With the DStv app, the same channels you watch on your decoder at home are available for you to stream online or on your mobile device wherever you are.  
Download and watch later  
Get the DStv app (Apple or Android) and download episodes to watch on your phone or tablet – just remember to connect to the Wi-Fi first so there are no surprise data costs.  
Back to News
System.NullReferenceException: Object reference not set to an instance of an object.
   at ASP._Page_Views_Partials_Grid_Editors_DocTypeGridEditor_featuredShowsModule_cshtml.Execute() in C:\home\site\wwwroot\Views\Partials\Grid\Editors\DocTypeGridEditor\featuredShowsModule.cshtml:line 39
   at System.Web.WebPages.WebPageBase.ExecutePageHierarchy()
   at System.Web.Mvc.WebViewPage.ExecutePageHierarchy()
   at System.Web.WebPages.WebPageBase.ExecutePageHierarchy(WebPageContext pageContext, TextWriter writer, WebPageRenderingBase startPage)
   at System.Web.Mvc.RazorView.RenderView(ViewContext viewContext, TextWriter writer, Object instance)
   at System.Web.Mvc.BuildManagerCompiledView.Render(ViewContext viewContext, TextWriter writer)
   at Umbraco.Web.Mvc.ProfilingView.Render(ViewContext viewContext, TextWriter writer) in D:\a\1\s\src\Umbraco.Web\Mvc\ProfilingView.cs:line 25
   at System.Web.Mvc.HtmlHelper.RenderPartialInternal(String partialViewName, ViewDataDictionary viewData, Object model, TextWriter writer, ViewEngineCollection viewEngineCollection)
   at System.Web.Mvc.Html.PartialExtensions.Partial(HtmlHelper htmlHelper, String partialViewName, Object model, ViewDataDictionary viewData)
   at Our.Umbraco.DocTypeGridEditor.Web.Extensions.HtmlHelperExtensions.RenderDocTypeGridEditorItem(HtmlHelper helper, IPublishedElement content, String editorAlias, String viewPath, String previewViewPath, Boolean isPreview)
   at ASP._Page_app_plugins_doctypegrideditor_render_doctypegrideditor_cshtml.Execute() in C:\home\site\wwwroot\app_plugins\doctypegrideditor\render\doctypegrideditor.cshtml:line 28
   at System.Web.WebPages.WebPageBase.ExecutePageHierarchy()
   at System.Web.Mvc.WebViewPage.ExecutePageHierarchy()
   at System.Web.WebPages.WebPageBase.ExecutePageHierarchy(WebPageContext pageContext, TextWriter writer, WebPageRenderingBase startPage)
   at System.Web.Mvc.RazorView.RenderView(ViewContext viewContext, TextWriter writer, Object instance)
   at System.Web.Mvc.BuildManagerCompiledView.Render(ViewContext viewContext, TextWriter writer)
   at Umbraco.Web.Mvc.ProfilingView.Render(ViewContext viewContext, TextWriter writer) in D:\a\1\s\src\Umbraco.Web\Mvc\ProfilingView.cs:line 25
   at System.Web.Mvc.HtmlHelper.RenderPartialInternal(String partialViewName, ViewDataDictionary viewData, Object model, TextWriter writer, ViewEngineCollection viewEngineCollection)
   at System.Web.Mvc.Html.PartialExtensions.Partial(HtmlHelper htmlHelper, String partialViewName, Object model, ViewDataDictionary viewData)
   at System.Web.Mvc.Html.PartialExtensions.Partial(HtmlHelper htmlHelper, String partialViewName, Object model)
   at ASP._Page_Views_Partials_grid_editors_base_cshtml.Execute() in C:\home\site\wwwroot\Views\Partials\grid\editors\base.cshtml:line 20