Korean action on tvN this Easter
tvN (DStv channel 134) is lighting up the Easter weekend from the MAMAs to Encounter to Melting Me Softly, and find out what's coming in April with Sne Dladla's Brada Sbu.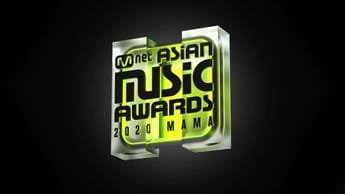 Korean entertainment channel tvN (DStv channel 134) has laid out a feast of special entertainment for the Easter weekend of Friday, 2 April, to Monday, 5 April. You can see…
The full season of Encounter S1 now offered in the English-dubbed version and the original Korean-language version.
The full six hours of the 2020 MAMAs (Mnet Asian Music Awards – coincidentally, this is a South Korean channel. The Mnet is short for Music Network).
And a special sneak preview of the romantic sci-fi series, Melting Me Softly, which officially launches in South Africa on Wednesday, 14 April.
Read on for full details, more about the world of K-Entertainment, four new shows coming this April, and why tvN could be your favourite new DStv channel (with a word from Brada Sbu)…
Celebrate Easter with the MAMAs
It's no secret that the global K-fam feels the 2021 Grammy Awards were not kind to K-Pop this year. Yes, BTS performed Dynamite live in Seoul with flawless choreography, but Lady Gaga beat them to the punch in the Best Pop Group Performance category (the first-ever Grammy nomination for a K-pop act). Aside from that, there was no recognition of the K-Pop genre.
Well, come Sunday, 4 April, all your favourite artists will get the cheers and applause they deserve when tvN (DStv channel 134) airs the full six-hour 2020 MAMAs, hosted digitally in Korea in December 2020 by Song Joong-ki (ex-husband of Encounter star Song Hye-kyo).
You can see performances by over 20 music artists, and it's a who's who of Korean TV and movie performers too, as they helped to celebrate the event by acting as presenters.
If you're just getting into the field of Korean entertainment, this is a perfect crash course. Look out for…
Performers: BTS, NCT, Taemin, Jessi, Hwasa, BoA, SEVENTEEN, TWICE, IZ*ONE, MAMAMOO, OH MY GIRL, (G)-IDLE, GOT7, THE BOYZ, TREASURE, STRAY KIDS, MONSTA X, ENHYPEN, TXT, ATEEZ and more!
Presenters: Song Joong-ki, Park Seo-joon, Hwang In-youp, Lee Jung Jae, Yoo Yeon-suk, Signal star Lee Sang-yeob, Choi Soo-young, Jung Kyung-ho and more!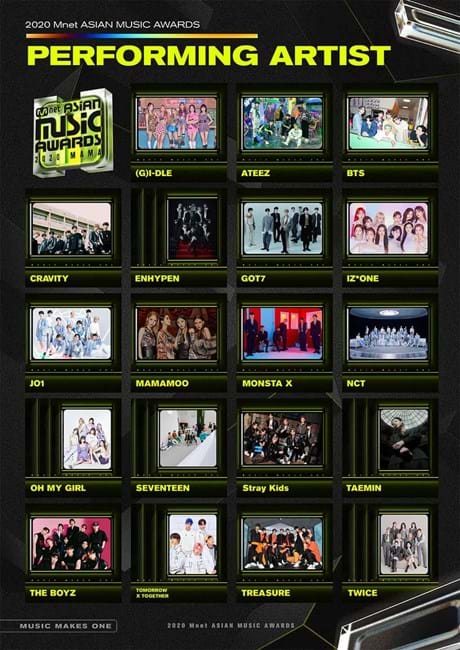 The 2020 MAMAs is a must-watch awards show for local K-Entertainment fans because there will be some big announcements about the upcoming K-Pop reality series Kingdom: Legendary War, which launches in SA on Friday, 30 April. We're expecting to see great things when ATEEZ, THE BOYZ and STRAY KIDS (all of whom will be at the MAMAs) get together with iKON, SF9 and BtoB.
K-Pop fans, remember you can also see some of these MAMA performers as guests in the reality series, I-Land, on tvN on Thursdays at 18:30:
Episode 7 and 12: BTS
Episode 7 and 12: SEVENTEEN'S The8, Jun, Hoshi and Dino
Episode 12: TXT
And NCT has their very own reality show, NCT World 2.0, on tvN on Fridays at 18:45 (read more below)
Watch the 2020 MAMAs on Sunday, 4 April, on tVN (DStv channel 134 at 17:30
Read about the 2021 Grammys Watch Signal Watch I-Land Watch NCT World 2.0
A Korean Encounter
K-Drama fans have spoken and DStv is listening. By popular demand, tvN (DStv channel 134) will be broadcasting the original Korean-language version of Encounter S1 this Easter weekend. The Korean soundtrack is now also available for the romantic fantasy series, Tale of The Nine-Tailed.
From Friday, 2 April, to Monday, 5 April, tvN will air the entire series from episode 1 to episode 16, in batches of four episodes each afternoon.
The story
South Korean superstars Song Hye-kyo (Descendants of The Sun, 2016) and Park Bo-gum (Love in the Moonlight, 2016) are the leads of the new 16-episode romantic drama series, Encounter, which focuses on those first giddy, dangerous steps in a relationship. In the story, Cha Soo-hyun (Song), the straight-laced, good-girl hotel manager and recently divorced daughter of a politician, meets and falls for free-spirited Kim Jin-hyeok (Park) during a business trip to Cuba. Can an exotic fling still mean anything when the two run into each other again in Korea? And can you make a lasting fire out of that spark between opposites?
NB! You can watch any of tvN's series with the original language track instead of the dubbed version on your Explora or Explora Ultra using your remote control.
Go to Settings
Select User Preferences
Select Options
Select the language option you prefer
Watch all 16 episodes of Encounter S1 in Korean from episodes 1-4 on Friday, 2 April, on tvN (DStv channel 134) at 12:30-17:30, to episodes 13-16 on Monday, 5 April, from 12:30-17:30.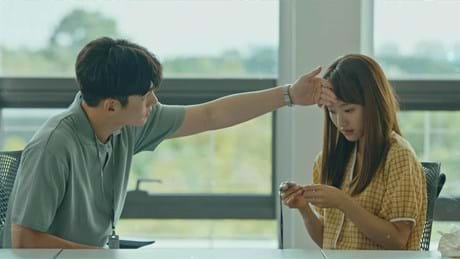 See Melting Me Softly first!
A special two-episode preview introduces Melting Me Softly on Saturday, 3 April, on tvN (DStv channel 134). These episodes will have only the Korean-language soundtrack with the English-dubbed version going live when the series officially starts on Wednesday, 14 April.
In this series, celebrity Ma Dong-chan (Ji Chang-wook) and ordinary woman KoMi-ran (Won Jin-ah) agree to take part in a new TV show in which they will be frozen in a cryogenic chamber for 24 hours. Unfortunately, something goes wrong and instead of being frozen for 24 hours, it winds up being 20 years. Now, not only do they have to get to grips with a changed world, but they also have to maintain an average body temperature of 31.5°C in order to stay alive.
Watch Melting Me Softly S1 episodes 1-2 on Saturday, 3 April, on tvN (DStv channel 134) at 17:30 and 18:45
Watch Melting Me Softly S1 from Wednesday, 14 April, on tvN (DStv channel 134) at 21:45
Get into tvN obsession with Brada Sbu!
Still on the fence about the K-Pop and K-drama landscape? Local help is at hand!
Sbu's (you may know him as comedian Sne Dlada) TV job-shadowing quest continues on DStv. And now he's soaking up tvN (DStv channel 134) as he tries out his new job as a boom swinger on a K-drama set… after he figures out that it's K(orean) Drama not keDrama (sjoe!).
There are just a few tiny, baby problems. The boom guy records sound and with all the excitement of the K-Drama shows, Brada Sbu might not be able to contain himself on set or hold back those tears as he watches Encounter or understands when to move out of shot because he's still learning basic Korean. Props to you for that anyway, Sbu.
Perhaps it's time to leave crew work to the crew and explore his real talents – as a K-Pop star! Wait 'til you see his slick dance moves like "The taxi driver".
As Sbu is finding out, the passion and unique story landscape of K-drama make it instantly fascinating. Most shows have a strong romantic component that doesn't follow the conventional beats we're familiar with in Western storytelling, so it always feels fresh, surprising and entertaining.
That same element of surprise is what keeps Hollywood adapting Korean horror stories like Into The Mirror (remade as Mirrors with Kiefer Sutherland) and A Tale Of Two Sisters (remade as The Uninvited with Emily Browning) and earned the 2019 Korean black comedy thriller flick, Parasite, a massive amount of international awards, including the Best International Feature Film Oscar in 2020 and the Best Foreign Language Film Golden Globe in 2020.
And it's an introduction to a whole new country's myths and legends. The fantasy show, Tale of The Nine-Tailed, for example, brings us the intriguing mythology of the nine-tailed fox, which will grip local fans of shows with a supernatural twist.
So go ahead – pick a genre that suits you and try out a show on tvN. See for yourself. And check out all the new shows coming in April below:
Watch Tale of The Nine-Tailed S1 Mondays-Fridays on tvN (DStv channel 134) at 21:15
April tvN highlights
The Easter weekend is just the start of the K-Drama extravaganza coming to tvN (DStv channel 134) this April. How fresh are these shows? Well, K-Pop reality series Kingdom: Legendary War S1 premieres in South Korea this April. Mark your TV diary for the following shows (and remember Melting Me Softly too).
Falling in love with K-Pop is easy!
Like Brada Sbu, if you give K-Entertainment a chance, you too could be swept up in the epic drama and fun, choreography and funky K-Pop beats.
The worldwide fandom can make getting into K-Pop seem daunting as there seems to be an endless rabbit hole of information, interviews and facts gathered by passionate fans.
And K-Pop fans join together in massive online groups to use their power to promote their favourite bands' songs, heighten their profiles and boost their visibility in an unofficial online battle (it's all done in good fun and most of the fandoms are as sweet and welcoming as they are band-crazy).
As with any passion though, you can start at the beginning. And that's where tvN's (DStv channel 134) K-Pop reality series like I-Land, NCT World 2.0 and the upcoming Kingdom: Legendary War are so incredible.
As well as introducing you to the idea of K-Pop and guiding you through the shows with English subtitles, they go behind the scenes to show the work and ideals powering K-Pop performances and identities. In each episode, you'll spend time with the individual, real-life K-Pop stars. Inevitably, one of them will get you hooked and before you know it, you'll go from frisking about the meadow, down the rabbit hole of fascination with the stars, the dance moves (epic choreography is one of the hallmarks of K-Pop), the songs –and then contemplating learning Korean to get into the lyrics. But they're fun to watch on their own, even if you take it no further.
Watch I-Land S1 Thursdays on tvN (DStv channel 134) at 18:30
Watch NCT World 2.0 Fridays on tvN (DStv channel 134 at 18:45 (until 23 April)
Watch Kingdom: Legendary War S1 from Friday, 30 April, on tvN (DStv channel 134) at 18:45
And if like Brada Sbu, you'd like to learn some K-Pop catchphrases, here are 10 of the basics…
Aegyo: Super cute (oh boy, this comes up a lot because some of these pop stars are just squishable). K-Pop stars show off Aegyo by doing all sorts of kooky things like bouncing around to kids' songs – and we just love them for it.
All-Kill: This is what fans groups are aiming for. It's all about the downloads and the views. When a new song releases and they agree they love it, a K-Pop band or star's official fan group will coordinate to move it up the charts until it tops all eight of Korea's live music charts, which are updated hourly! Related to this, a Daesang is a major official award that a band can win. For example, Song of The Year at the MAMAs.
Killing part: The section of a song that's on fire.
Anti-fan: Boo! This is a hater.
Beagle line: The members within a group who're the most playful – like puppies.
Bias Wrecker: Oh, hello! This is the group member from another band who is so utterly amazing that they make you want to switch fandoms from your current group (your Bias) to become a superfan of their group. Remember though, you can support more than one fandom. This doesn't make you an anti-fan of your original group.
Hwaiting: Cheering your faves on and fighting for them.
Maknae: Aww, this is the baby of the group, the youngest member.
V Live: The must-watch live-streaming platform for K-Pop stars where they upload all sorts of juicy behind-the-scenes stuff and reaction shots of themselves after shows.
Idol: A K-Pop star. Before you become an Idol, you go through the process of grooming like learning music, singing, choreography and even languages and styling as a trainee with one of the three major K-Pop entertainment brands – JYP Entertainment, SM Entertainment and YG.
tvN will be on air until Saturday, 12 June 2021, and all series that launch on the channel will play out in their entirety during the channel run.
tvN (DStv channel 134) is available automatically to all DStv Premium, DStv Compact Plus, and DStv Compact subscribers.
Watch tvN Read more Upgrade your package
Download today, watch tomorrow with the DStv app
Get the DStv app (Apple or Android) and download episodes to watch on your phone or tablet. Just remember to connect to the WiFi first so there are no surprise data costs.
Back to News