Women take the bull by the horns
Celeste Ntuli hosts season 3 of HONEY's proposal show Will He Say Yes?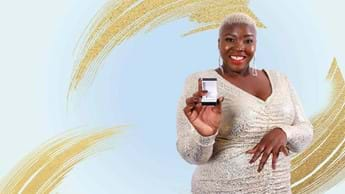 Comedian and actress Celeste Ntuli joins season 3 of proposal show Will He Say Yes? on DStv's HONEY (DStv Channel 173). The show was previously hosted by local media personalities Pamela Mtanga and Karabo Ntshweng. This season, Celeste brings flair to Will He Say Yes?, which follows women, who propose to their partners. Apart from thrilling proposals, viewers can look forward to real, spicy and heartfelt stories.
Read below to find out behind-the-scenes details about Celeste's new hosting role.
1. Hosting a proposal show is different from your past roles. What is the scariest part of joining Will He Say Yes?
It's totally different from anything I've ever hosted before. I learnt a lot from hosting Will He Say Yes? and my interviewing skills are sharpened by the topics we explore on the show. Throughout the season, we deal with the real emotional issues of the guests.
2. How do you manage the emotions that some of the women experience on set, while still trying to execute your hosting duties?
I always voice my feelings, which works well because I'm not afraid to ask questions. As a result, I learn more and do better.
3. What do you think makes the proposal show special?
I love that the production is led by women, who are honest and kind. I also like that even the camera crew has a young lady, which is inspiring to me. The concept of love has been told in one way, and I appreciate that the show is changing that narrative and women can take action in their relationships, it goes beyond gender.
4. If there is a misconception about you that you'd clear up, what would it be?
It's that I'm hardcore and I'm emotionally strong all the time. I love that viewers will see a softer side of me on Will He Say Yes?
5. What are three things you're currently obsessed with?
I'm always on the lookout for new music, I love Burna Boy, and watching podcasts.
6. What other projects are you working on?
From here, I'm going straight into my stand-up comedy shows, which are finally going to be in full capacity after almost three years due to COVID-19 regulations.
Follow Celeste Ntuli and Honey online. #HoneyDStv173
Watch Will He Say Yes Saturdays at 21:30 on Honey (DStv Channel 173).
HONEY (DStv Channel 173) is available on DStv Premium, Compact Plus and Compact. To upgrade your existing package, click here. Or if you'd like to Get DStv, find a service that suits your needs here.
Back to News