Take a peek inside Tali's Baby Diary
Come with us for a sneak preview inside Tali's Baby Diary, airing on Showmax in March 2021
OMG, you guysss!
Instagram sensation, influencer and thought leader Tali Shapiro-Nudelman (played by Julia Anastasopoulos) is having a baby. She has gathered her wickedly observant documentary film crew, who brought us the glory of Tali's Wedding Diary in 2017, and they've started work on Tali's Baby Diary.
We're in for a long wait (well, it feels long because we want it so much) until the season premiere of Tali's Baby Diary in March 2021. But we braved the masks, sanitiser, production security and so forth for a quick chat with Julia; Anton who plays Tali's husband and father-to-be, Darren; and Glen Biderman-Pam, who plays Darren's business partner, Rael Rosen. And we got a top-secret peek at some scenes from the new season. The first thing we can tell you is that the masks will be off – in more ways than one.
"The show is set at the beginning of 2021. We don't really bring 2020 into the story. We felt like we wanted to escape from it a bit. It's been a bit of a challenge to shoot it that way, but we have decided to leave that out of the story," reveals Julia. "We've kind of set it in a parallel universe where COVID never happened. We learn that Tali is pregnant in Episode 1 and we follow her pregnancy until the end when she has her baby. It's a nine-month journey.
"As with the world of weddings, in the world of having a baby, there is a lot of comedy. You have to have a sense of humour because you meet the funniest people. And the world of having a baby on social media, we can laugh at that because what is portrayed is so far away from the truth. We really wanted to look at that and play with that. It's coming from a real place, the ridiculousness of it all I experienced as a first-time parent," says Julia, who had her daughter, Zoe, with husband Ari Kruger back in July 2018.
Watch Tali's Wedding Diary on Showmax
Welcome to baby world!
The baby news comes as a surprise to Tali and it derails her plans for the direction she wants to take as an influencer. But once Tali comes round to the idea of being pregnant, it is indeed a blessed event. Get ready for the shopping spree of a lifetime.
"Oh my gosh, where do I even start?" Julia laughs. "I know this from my own pregnancy, that you think you have to buy all this crazy stuff. You don't need it, but you end up doing it anyway. But obviously, Tali is the most extravagant person. Tali is so extra that she really does go for it. We're talking all the baby gear, all the prams, all the accessories. She has a massive pregnancy pillow that travels with her throughout the season. She even gets a bigger car because, you know, now that you're having a baby, don't you need a bigger car? So that's what Tali buys.
"In terms of production and the art department, there have been some really funny things that have come into the show. The bee-themed baby shower has been an extravaganza (Looking down at the set on the day, we can tell you to expect Tali in full-on Bee-yonce mode, crown and all). There are prosthetic bellies made of silicone and realistic skin, it's crazy."
And if you've been even the tiniest bit close to baby world, you'll know that it all comes with a steep price tag. "We have pulled so many favours for this production," admits Julia. "But luckily, because Tali S1 was a success, we were able to leverage off that and say that Tali is having a baby. We've done a lot of brand collaborations with Tali for real, and we've had so many major brands come on board and let us borrow stuff. They've sponsored stuff and we've had amazing fashion brands that have come on. It's actually really worked out because that's what we're doing in the show! She's an influencer, she's getting brand sponsorships, and it's this kind of parallel world where we really are getting the brand on board so it's worked out brilliantly. I could not be more grateful. There's going to be a lot of stuff happening on social media that's based on collabs with these brands."
Tali's big makeover
Furthermore, our glamorous Tali is getting an Earth Mother makeover. And it's not just her. In Tali's stop-at-nothing quest to conquer the world of Instagram mom influencers – the Momfluencers – she makes over her house, too. "Tali, who is very into material things, tries to do a few things to pivot into the Momfluencer world. She feels the Momfluencers represent a more wholesome, natural kind of world, so we do see Tali trying to infiltrate that world and try to become a little more wholesome, which is comedic to watch," says Julia.
"She transforms her look in one episode and her house in another episode. She does a whole house makeover to try and fit into this crowd. She gets quite elaborate with it. She eliminates everything that she thinks would be frowned upon by the world of the Momfluencers, like the Nespresso coffee machine because it's single-use plastic. And she brings in a lot of plants, which isn't in her character at all. She probably doesn't do well with plants, poor old Tali. She changes the couches, which are her wedding couches, and the artwork. We had a lot of fun with the art department on that set-change day," reveals Julia.
And while Darren is, in Anton's words, "resigned" to having his life and house turned upside down, Anton was in awe of what the art department had achieved. "You know, when something crazy happens in life you're like, 'Oh, well. Of course, this is happening.' Nothing surprises you any more. That's exactly like Darren," says Anton.
"But the art department, logistically, it was a triumph to have done it in the timeframe that they did. They deserve an award. I walked in there and then I later went downstairs to the holding area and the house was transformed. I was like, 'How did you do this in such a short period of time? It was like 2 hours! It was insane. It's not like they moved a table. They properly redid the house. But as for the fact that Tali would do it? I was like [as Darren], 'Of course she would,'" Anton shrugs.
The (sur)real world of moms
But Tali is right about one thing. There are people out there who will nitpick every single aspect of any photo you post online, especially if you're a mom. Baby world on Instagram is "A Thing" (capital T). "We were drawing from social media, actual influencers and the trends that are happening on Instagram, especially in the world of the Momfluencers, actual people we all seem to follow in our everyday lives as moms," says Julia. "They have a very curated look. It's a lot of fun because we are making fun and we are commenting on that world and how fake it is."
This is motherhood portrayed as a sun-bleached fairyland. "Very desaturated colours," describes Julia. "Very natural-looking with maybe some beautiful flowers and sunset. Perfectly photographed. It isn't reality." If you pull back the camera, Julia explains, "You'll actually see that there's a professional photographer. The baby is crying. You're quite uncomfortable with yourself and your body. It doesn't look like that at all.
"No one can prepare you for it [motherhood] until you go through it. What struck me was how underprepared I was, and how much harder it was than I thought it would be. And I think that it goes through a similar journey. It's portrayed in media, social media and movies as quite glamorous. You'll be pregnant and gorgeous and you're a goddess – with the baby, I really found it to be the opposite. We definitely drew on that as well."
Naming the baby
With pregnancy comes a host of fun and frivolous traditions, parties, celebrations and decisions, all of which we get to experience in an especially Tali sort of way. But with Tali being positively mulish about getting her way, we can expect an epic battle over possible baby names.
"Yes, absolutely. We have a lot of fun with all those things like naming the baby, the gender of the baby, finding the right doctor… we've drawn on all the key things that a first-time expectant couple would go through," says Julia. Gender reveal party disasters are also a perfect fit for Tali's world and you can bet your baby booties that Julia went there. "Big time, we should say gender-reveal-gone-wrong parties. There's a bit of a twist, it's really fun. It's an elaborate affair and it doesn't go the way that Tali had planned."
And with the name, Julia says, "There is a lot of discrepancy between what Darren wants and what Tali wants and there's a lot of comedy that comes out of that."
Fans who saw Tali wipe her feet with Darren all through S1 will be surprised to see how much he holds his own this season when he needs to.
"In general, Darren is a bit more assertive this season. There are one or two things that he and Tali debate about while planning for the child. I'm quite impressed when he says, 'No, no, no, I don't think this is a good idea,' reveals Anton. "In terms of naming the child, Darren has certain parameters to what he will allow his child to be named after, that I was quite impressed with. Darren of S1 would not have any say. He'd maybe venture something and then be bulldozed over. The scriptwriters have given him more backbone. The most important thing for Darren this season is the child. And that brings him and Tali together. It supersedes anything else," Anton explains.
Relationship dynamic
"The relationship arc is slightly different this season," agrees Julia. "The first season was a relationship story and this is less of that. It's more about Tali coming to terms with being a mother and Darren being very much in support of that. There's less of a relationship struggle. There's still the fun dynamic between poor old Darren and Tali, who just says it how it is and gets exactly what she wants, and will go to any lengths to do so. I do think that Darren is in support of whatever Tali wants because his main goal, especially this season, is to just be a supportive husband and dad. He's just so excited about becoming a dad. He's the positive force that keeps her and the audience going throughout the season."
Anton adds, "Darren is in a good space. Business is going well and he's ready for the next chapter in his life. Darren's been married to Tali for 2 years in this season, so he's quite used to her. He's at peace with whatever it is that she does. Darren just wants to be the best dad ever. He tries his best to be a good guy, the nicest guy, and he wants his business to do well, but he's quite ethical and he doesn't want to lie. He's just enthusiastic about being a dad and that aspect of him is similar to me because I am enthusiastic about things in life."
Photo credit: Coco van Oppens
Daddy business
For now, to Darren being a good dad means doing whatever it takes to support the mom. Further than that though, he might lack role models. "His past has a bit of pain, and in Joburg, he didn't have a father figure. He didn't have a dad himself so he probably wants to be all the things that he didn't have. He's drawn to Les (Tali's dad, played by Guy de Lancey) because of the lack of his own father. And he wants to have a father figure and to be a dad. The closest he has to a father figure is Les."
Anyone who's seen Tali's Wedding Diary will be saying, "Wait, hold up!" because Les is downright cruel and dismissive of Darren! Uh-oh. But for now, nothing that complicated will be happening.
"Darren wants to be a good dad, I think he probably just wants to support his wife and he knows that Tali's the star. He knows that the documentary crew is there for Tali. So he's there to support her," insists Anton.
Meet the Mompetition!
Tali's friend, Gabi (Lara Toselli), stole her thunder by going into labour at the end of Tali's wedding in S1. So in S2, we'll see Tali out to "out-mom" Gabi, but she's in for a tough time because Gabi has a significant headstart on the Instagram mom nonsense. Her posts are filled with soft light, natural fibres and wooden kids' toys. No PS5, Paw Patrol infestation or blinking lights for her precious unicorn!
"Oh, big time. Gabi is the main antagonist for Tali this season. Tali really wants to infiltrate Gabi's group of friends and the Momfluencer world to which Gabi belongs," reveals Julia "There's a lot of competition and it gets crazy.
"The first main hoop is Tali trying to become this wholesome, natural mommy-type character, which she is obviously not. It's fun and visual. We see her trying to get more followers, and the way she does that is by targeting different kinds of people, so she tries to do the collabs and social media things. She tries to befriend real celebrities to try and up her audience and status. We see Tali trying to be something she is not, which she will eventually realise is the wrong decision." And knowing Tali, when she realises that this is a load of nonsense, she's going to hop onto Instagram and tell off those momfluencers!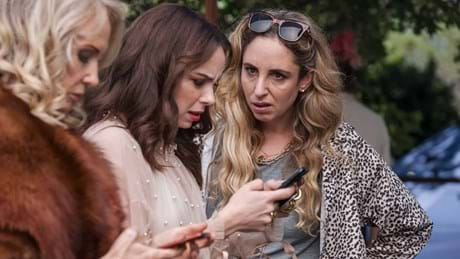 Rael off the rails
With Tali in a tizz and Darren settling into the dad zone, the couple's closest friend, Rael, will be questioning his own life choices. Expect romance and sheer chaos on the horizon for Mr Rosen.
"Darren is essentially married to two people, Tali and Rael. And with Rael, he bickers with him. But in this season, Darren is not threatened by Rael, he's not trying to get his face bigger on the billboard or anything like that," says Anton.
Glen agrees. "Rael seems to have a lot more respect for Darren in this journey. Darren is a lot more cool, calm and confident in himself. Something changes when he finds out he's going to be a dad. And I've seen in Anton a much more stoic and mature performance. And that reflects in Darren's journey, he's more calculated and calmer, and more of a rock for Tali and for Rael, who's going into a complete spin. Darren is really there to hold the whole thing together. Without him, both Tali and Rael… who knows what would happen to them?
"In the first season, there was a lot of conflict (between Rael and Darren), there was a lot of ego involved. They were young, hungry and cocky commercial property specialists, but in the three years that we weren't filming, Goldprop has flourished. It has done really well for itself. And the better you do in a business, the less ego you have to have. Darren might have started the business but at some stage, they decided they were equally matched and equal shareholders in the business. And that sticks them together and keeps them side by side without any conflict. They're teammates through and through."
Nonetheless, the baby news comes as a shock to Rael. "Rael has an existential crisis in S2 and part of that is triggered by his best friend, Darren, and Darren's wife, Tali, having a baby, Rael looks inward and thinks, 'Is it time that I need to set a family up?' And in trying to do so, he gets himself into all sorts of spider webs and crazy situations that result in a huge ripple effect and chaos in the world of Rael Rosen. His reaction to hearing the news of Tali and Darren being pregnant? I would say, suspicious," hints Glen.
Goldprop vs Seleibowitz, Take 2
Aside from making him question his own choices, Darren's daddy distraction leaves Rael holding the baby, as it were, at the office. "He's a little sceptical in that he has a lot to take on with regard to Goldprop because Darren is often busy doing baby stuff. And that then pivots Rael into a much more senior role in the company in which he needs to manage his employees and staff, who are a complete circus in themselves. He has a lot on his plate this season," reveals Glen. "Within Goldprop, there are some very interesting staff members and employees. Some are there against Rael's will but because he's a team player, they are accepted and that makes his life quite difficult. Managing the company becomes a huge challenge for him.
"And we're then re-introduced to the opposition, the Seleibowitzes, Jarred and Marc (Oliver Booth and Dylan Skews). They have really elevated their status as well. They're in the same building as Goldprop so the competition really heats up. The Seleibowitzes get under Goldprop's skin by underhandedly getting ahead of Goldprop. It's a fascinating journey that the two businesses embark on as they try to one-up each other and eventually have to face each other in the worst possible way." It's an echo of Tali's struggles with her own online rivals.
"Rael sends himself into a complete disaster and a spin and goes off the rails. The harder he tries to get back at the Seleibowitzes, the worse it becomes for him. He's in a state of shock and panic. He doesn't quite have his senses together for a lot of the middle of the story," reveals Glen. "In S1, Rael was just the do-gooder, tried his best and was a sweetheart. But now that he has people under him and he has this huge competition, it's so interesting to see him take on a much more mature role. He's in almost a sort of Jason Bateman (George Michael in Arrested Development) role where he's managing these crazy people around him.
"But there's this other swing where he really goes nuts and gets these bizarre, ridiculous ideas. And that was insanely fun to do. There's a method to his madness… but often there's very little method. Often there's just madness. So for example, he tries to spy on the Seleibowitzes. He gets his drone and tries to fly it into their offices. They're much quicker than him and snatch it out of the air. So he has to go and get his drone back and that makes it even worse. It spirals more and more until he comes up with this masterplan, which I can't talk about, which gets even worse and ends in absolute chaos and tears for Mr Rael Rosen, and he has to walk out with his tail between his legs. With Darren busy with baby stuff, you can only imagine how much craziness this guy gets up to throughout the season!"
How to watch DStv online
Sign up with the DStv app, a free service for all DStv subscribers. With the DStv app, the same channels you watch on your decoder at home are available for you to stream online or on your mobile device wherever you are
Download and watch later
Get the DStv app (Apple or Android) and download episodes to watch on your phone or tablet. Just remember to connect to the Wi-Fi first so there are no surprise data costs.
Back to News