Welcome to the Festival of Fun
Cartoon Network (DStv 301) and Boomerang (DStv 302) are bringing your kids talking mushrooms, singing cheese and all kinds of Valentine's Day fun this February!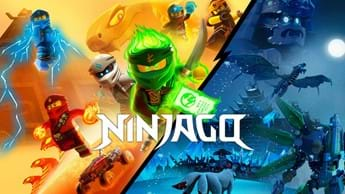 February launches DStv's Festival of Fun for kids on the Cartoon Network (DStv 301) and Boomerang (DStv 302) channels. And each show brings something special to the party like the 2 brand-new series introducing us to new friends: Mush-Mush And The Mushables (who are mushrooms) will share the little kids' love of nature. For the older kids, there's comedy and anarchy in the quirky, new, blended family show, Boy Girl Dog Cat Mouse Cheese, which sneakily teaches children all sorts of social skills, particularly negotiation and compromise.
There's a new season of Ninjago, which explores a beautifully designed kingdom in the clouds with epic fantasy storytelling to spark the imagination. The Scooby gang's new episodes will ramp up the silly comedy with a new monster in each episode – and why not have the kids design and draw their very own monsters for fun?
Kids aged 4-14 will also have something special to watch this Valentine's Day as both channels roll out a day of special love-themed episodes. Whether they're at the stage where they're falling in love and holding hands, or running away and shrieking at the idea of a kiss, they're going to adore this celebration of the silliness, strangeness and sweetness of love.
Watch Cartoon Network Watch Boomerang
Boy Girl Dog Cat Mouse Cheese S1
This anarchic American-French-Irish animated series features a "Modern Family" with a difference. A dad with 3 sons – an anxious human boy, a daft dog and a smart, conceited mouse – marries a mom with 3 daughters – a rowdy, phone-obsessed human girl, a bizarre cat and a piece of cheese that loves throwing parties and writing fantasy novels. Now they have to find a way of living together, sharing bathrooms and working as a team. The sibling rivalry will be bizarre!
Watch Mondays-Fridays from Monday, 15 February, on Cartoon Network (DStv 301) at 16:30 
Catch The Love Bug
Ewww! They're kissing. With their mouths. They're singing goopy love songs! They're vomiting rainbows! It's so gross and contagious and if you're not careful, you could catch The Love Bug. Symptoms: going pink, hearts in your eyes, chest-pounding, puckering lips, saying "Aww" and watching more. Cartoon Network (DStv 301) is celebrating Valentine's Day this February with The Love Bug collection of love-themed episodes of the following shows:
Power Rangers Super Beast Morphers Episode 208
Craig of The Creek Episode 20
Victor And Valentino Episode 11
Teen Titans Go! Episodes 1249 & 1129
Top of The Titans: Best Love Songs Episode 212
The Amazing World of Gumball Episodes 662 & 712
I, Elvis Riboldi Episode 36
DC Super Hero Girls Episode 48
Watch on Sunday, 14 February, on Cartoon Network (DStv 301) from 10:10 
Back to News