Big Sports Weekend
Stream every minute of the weekend's biggest games live on SuperSport via the DStv App.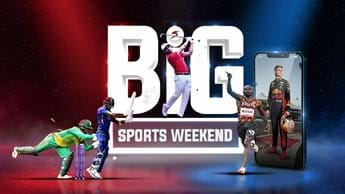 Tune in for another EXCITING Big Sporting Weekend live on the DStv App from 18-19 June 2022. We are bringing you a jam packed line-up that promises to keep you on the edge of your seat.
Here is a look at the upcoming fixtures:
Saturday 18 June, 2022
Golf
US Open Golf , Day 3 Main Feed live at 18:00 on SuperSport Golf (DStv Channel 213)
Rugby
Stormers vs Vodacom Bulls live at 19:30 on SuperSport Rugby (DStv Channel 211)
Athletics
Diamond League , Meeting de Paris live at 21:00 on SuperSport Variety 3 (DStv Channel 208)
Sunday 19 June, 2022
Cricket
T20 International , India v South Africa 5th T20 live at 15:20 on SuperSport Grandstand (DStv Channel 201)
Motorsport
F1 Grand Prix Canada live at 19:55 on SuperSport MotorSport (DStv Channel 215)
How to watch:
Stream it live via the DStv App.
Get the DStv App (Apple or Android)
To upgrade your existing package, click here. Or if you'd like to Get DStv, find a service that suits your needs here.
Back to News