The Big Ideas in Big Blue, with Gyimah Gariba
Big Blue creator Gyimah Gariba talks about how kids learn from each other and why Big Blue is never mean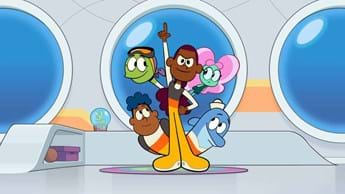 Cartoon Network (DStv Channel 301) animated series Big Blue takes children ages 5-9 on undersea adventures, combining life lessons like getting along with your siblings, with messages about caring for the environment, all wrapped up in big bold jokes, colour and fun… with some weird, real-life ocean facts sprinkled in.
Ghanaian-born series creator Gyimah Gariba remembers his own childhood vividly, and his relationships with his own siblings growing up have helped to shape the characters and their experiences on screen. Read on as he tells us more about the love and care that went into making Big Blue, a show that'll help children to grow and care for each other and the world around them.
Watch Big Blue now Watch Cartoon Network now Set a reminder
And remember, your kids will meet some of their favourite characters when they play and learn with DStv Island Adventures, free to all parents via the MyDStv app.
Read about Island Adventures Get the MyDStv App now
Sardines & whales: Big Blue ideas
What was the seed that Big Blue grew from?
"The seed was actually a call for pitches that was done internally at our studio, Guru Animation Studio. They have a lot of hit shows like Paw Patrol, and True and The Rainbow Kingdom, and things like that. But those came from outside of the studio. Then when our VP of Development, Rachel Marcus, joined, she had this idea of getting internal pitches to get people inside Guru Animation Studio excited about the products that they were working on. She was kind enough to ask me if I had any pitches that I wanted to bring to the table. That was probably around 2018. And just then we were doing research about the underwater world for another show that our studio works on, so I was really fascinated with the underwater world. And it all came together."
Your episodes run around 11 minutes, how does that impact storytelling?
"A lot of the time there are things that can be distracting, especially when you want to make a comedy show. It can get very slapstick, very quickly, and the point, or the heart, or the truth of the story is easily glossed over. Having it be an 11-minute animated comedy show really helped us focus on what we want to say each episode, because there's not very much time. We have to prioritise really well, and once we have the main story, just keep packing on the jokes – the visual jokes, the fart jokes, the comedy, the double entendres..."
Your show is aimed at children ages 5-9. How did that impact how your characters communicate?
"Throughout the show, our director, Riccardo Durante, always impressed on us that these characters cannot be malicious to each other. These characters have to care about each other at every single turn. I was apprehensive about it just because every story needs conflict. But it was nice for the conflict to come from an external source, and have our characters really support each other through all the problems. The characters are very silly. They give terrible advice. And they're not very rational, but it (help) always comes from a place of support. So, when 1 of the characters says, "I'm scared", none of them laugh, and all of them jump to help. It's not jokes through being malicious. It's not jokes through being exclusionary. Hopefully, that just shows kids that there's joy in the world outside of opposition with 1 another. And I don't think that there's enough of that, especially when talking to kids nowadays. A lot of people try to get their jokes off without considering how the message is being delivered."
How does that dynamic reflect your relationships with your siblings growing up?
"That's the beauty of it. 1 of the reasons we don't have any adult characters in the main cast is because we really wanted to explore the relationship between children of different ages. Our oldest character is 11 going on 12. Her little brother is 8. And our youngest character is toddler aged.She iss hundreds of years old, but she behaves like a toddler. And we really want to explore those relationships, because when you're a kid and you have no supervision, you have to come to the conclusions of being a good person by yourself. So, if you don't share your chocolate bar, and you end up feeling bad, that's up to you to uncover for yourself. There's no adult waving their finger at you, you have to just realise that you want to share and why you want to share. Some of the best episodes are when we get to explore those things with actual children's emotions."
What do you remember about being ages 5-9? What were your obsessions?
"Some of my most vivid memories were just being able to transport myself into whatever show I was watching. I remember being a child sitting in front of the TV, and then being able take away what was in my periphery and fully commit to what was on screen. So, our goal was for you to sit in front of the TV and then be pulled underwater on this adventure, then once the 2-11 minute episodes are done, you can go back. A lot of our design choices, our colour choices, our sound choices, were meant to put like a pillow fort blanket over your head while you're watching the show, so that you can suspend disbelief and transport yourself. I was always trying to channel my 8-year-old self whenever making the show and pretend as if it was coming up on Saturday morning, to do a quick test to see if I was disappearing enough in the universe."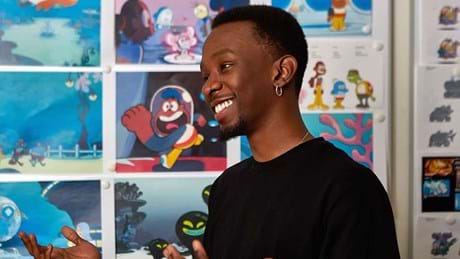 What's been 1 of the episodes that's closest to your heart and your own experiences?
"There's an episode where 2 of the characters, Lemo and Lettie, are trapped in an elevator, and we're getting very frustrated with each other. There's a lot of character development in it. It is similar to a lot of the conversations I've had with my siblings growing up, when we were just trying to get to know each other. It's difficult when you're a child, you don't have the language necessary to communicate with everybody in your life, and that makes for an interesting dynamic, to say the least. That's one of the episodes that is unlike any other cartoon episode I've seen, but still filled with jokes, still filled with laughter. I'm really proud of it."
Watch Big Blue Season 1 on Mondays at 17:35 on Cartoon Network (DStv Channel 301) and on Catch Up.
Cartoon Network (DStv Channel 301) is available on DStv Premium, Compact Plus, Compact, Family and Access. To upgrade your existing package, click here. Or if you'd like to Get DStv, find a service that suits your needs here.
Watch, laugh and learn with even more children's shows and movies on DStv.
Does your kid like to watch on your phone?
Download the DStv App (Apple, Android or Huawei) or go to https://now.dstv.com/, on your laptop. Your little ones can watch their favourite shows on DStv – just remember to connect to the Wi-Fi first sos there are no surprise data costs.
Back to News