Kids have their say in #MonstieAsks
Kids
The kids of DStv's School of Laughter have their say in new segment, #MonstieAsks. Watch it on the DStv YouTube Channel.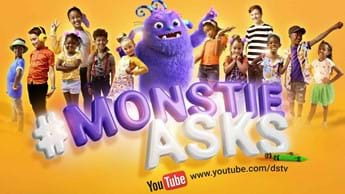 DStv's School of Laughter and our loveable character Monstie set out to get to know our wonderful School of Laughter kids and their thoughts on certain topics.
In a brand new segment on DStv's YouTube channel called #MonstieAsks, kids aged 4-14 give us their adorable thoughts on topics like love, friendship, food and so much more.
The result? Hilariously adorable videos that give us a glimpse into the kids watching our channels, the thoughts they have on life and the content available on DStv that speaks to these interests.
Watch brand new episodes of #MonstieAsks every Saturday on the DStv YouTube channel. Subscribe to the channel today and turn on your post notifications to ensure you never miss an episode.
And stay connected to enjoy the best in kids and family-friendly content with DStv's School of Laughter.
Subscribe to DStv's YouTube channel Watch Kids Shows Now
#MonstieAsks
DStv's children's content isn't just about favourite shows, characters and personalities onscreen – there's the commitment to both children and parents to assist on the journey of raising children and being children with fun entertainment along the way. Whether it's NickToons or Disney Channel, Power Rangers or the Yogi Bear reboot series, Jellystone, DStv and its School of Laughter mascot Monstie are along for the ride holding your hand.
With #MonstieAsks, DStv aims to bring children's awareness of the world and their innocence to your living room. The kids who're interviewed in each episode are asked everything from "what's your favourite food", to "who is your best friend" and "do you know why bullying is bad?" – and it's as much about the little ones being interviewed as their answers.
And as always, we're always out to help kids and parents find new and exciting shows to enjoy within DStv's School of Laughter. 
Stay tuned to DStv's School of Laughter and subscribe to DStv's YouTube channel for more of the best in kids entertainment.
Back to News