 301
Jellystone!
Welcome to Jellystone, the charming old town where the doctors are bears, a modern-day caveman fights crime, and there's a silly catastrophe every day.
Mondays-Fridays on Cartoon Network (DStv channel 301) at 15:15
About the Show
12 November 2021
The old town of Jellystone is filled with charm… and a host of familiar chaotic Hanna-Barbera characters, from Yogi and Boo Boo Bear (who're now doctors at the town hospital), to Huckleberry Hound, El Kabong and Captain Caveman. Every day the Jellystone townsfolk get into a muddle and muddle their way out back of it again – with community spirit.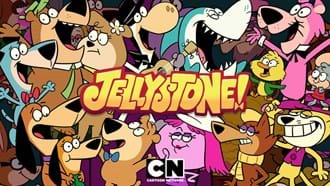 Kids
12 November 2021
Jellystone! executive producer C.H. Greenblatt shows us around town and gives us the lowdown on the characters.